The Villages of New Seabury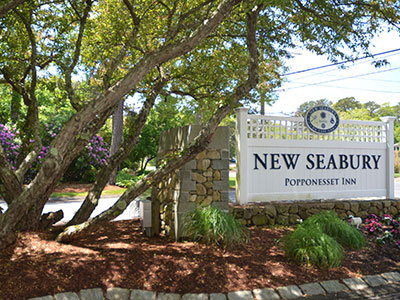 When the community of New Seabury was started in the 1960's the basic concept was that individual houses would be clustered in wooded surroundings with an emphasis on the preservation of the natural landscape form and vegetation. With this conceptual framework, the planners created a group of villages each with its own individual character and residential density.
The Villages of New Seabury are Bright Coves, Fells Pond, Greensward, High Wood, Sandalwood, Summersea, Triton Sound, The Mews, Mews Condos, Popponesset Island, Promontory Point A&B, Seaside, The Bluff, Seaquarters, Great Flat Pond, Poppy Place and Stendahl.
Bright Coves Village
One of the original New Seabury Villages with lots that are generally water oriented with views of Popponesset Creek and inlets. Bright Coves has beautifully maintained Reserve Areas that provide benches for a relaxing view of the water. Find out more
The current Village Chair:
Chair: Marjorie Clapprood
Phone: 617-835-2626
Email: mclapprood@aol.com
Greensward Village
Golf is the focal point of this village as the back nine of the Ocean Course and all 18 holes of the Dunes Course meander behind Greensward homes along roads with golf motif names like Slice, Walton Heath and Troon. Find out more
The current Village Chair:
Chair: Darlene Furbush
Phone: 
Email:
High Wood Village
Large lots and bridal trails mark Highwood as one of the unique original villages of New Seabury. Today the bridle paths are maintained as beautiful walking paths around ponds and through the community dotted with heavily treed large lots. Find out more
The current Village Chair:
Chair: Mariana D'Ambrosio
Phone: 508-477-3642
Email: m.d.highwood@gmail.com
Summer Sea Village
The Summersea Village surrounded by Ockway Bay and its coves is primarily a boating community with beautiful water views from most homes. Due to the proximity of the bay most lots in Summersea are small but with major native trees and indigenous plants. Find out more
The current Village Chair:
Chair: Fredda Zaiger
Phone: 617-680-0522
Email: freddazaiger@gnail.com
Triton Sound Village
From spectacular views from the bluff overlooking Nantucket Sound to views down the 18th Fairway, Triton Sound is a special place. A small village known well to many residents of New Seabury as they drive to the clubhouse. Find out more
The current Village Chair:
Chair: Jarred Sherman
Phone: 646-418-7542
Email: jarredsherman@gmail.com
Fells Pond Village
A beautiful fresh water pond within walking distance of Nantucket Sound makes the Village of Fells Pond very unique. The residents love their sandy beach and quiet canoeing and kayaking on the pond. Find out more
The current Village Chair:
Chair: Catherine Power
Phone: 508-477-7699
Email: ciao713@gmail.com
The Mews Village
A cluster housing community is very unique to New Seabury. Many homes surround pools or have views of the Dunes back nine. The village has single-family homes as well as condos all with similar views and interests. Find out more
The current Village Chair:
Chair: Wayne Luther
Phone: 774-331-1020
Email: wayneluther70351@gmail.com
Sandalwood Village
Sandalwood is New Seabury's northern most village and sits just 1 mile off the Mashpee Rotary on Great Neck Road South. Find out more
The current Village Officers:
Chair: Karyn O'Connor
Phone: 508-477-7699
Email: ciao713@gmail.com
Seaside Village
A quaint village tucked between the Ocean Course and Nantucket Sound is Seaside. A village that goes back many years is now experiencing growth as new homes are built along the first fairway. Find out more
The current Village Chair:
Chair: Joe Pedula
Phone: 508-419-1798
Email: pedula@comcast.net
Poppy Place Village
The current Village Chair:
Chair: George Bell
Phone: 508-477-0076
Email: gbell@ebsrr.com
Promontory Point Village
A beautiful condominium village with golf and Nantucket Sound views is Promontory Point. Unique architecture marks the village that is currently experiencing major expansion along the golf courses. Find out more
The current Village Chair:
President: Roy Hirshland