Bright Coves Village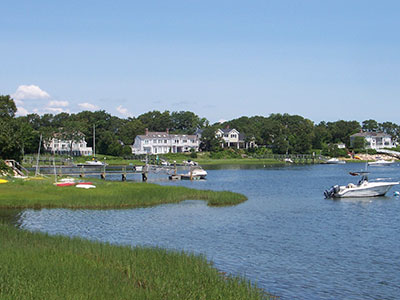 As a premier waterfront community, Bright Coves Village is defined by its tranquil waterways and scenic reserved areas. As would be expected in a seaside village, the main activity in Bright Coves is water sports. Kayaks, sail boats, power boats, and swimmers abound. Residents and visitors spend beautiful summer days traveling by water to the beach to play or to the ocean to fish, and due to our close proximity, day trips to Nantucket and Martha's Vineyard, are routine.
Although the original residences are slowly being replaced by new construction, the home design that made New Seabury famous can still be seen in Bright Coves. With walls of glass and dramatic roof lines, homes in our village continue to maintain a dramatic tradition. The mixture of new and old creates an eclectic and stately landscape which can best be viewed from the water.
As one of New Seabury's original villages developed in 1962, Bright Coves has a rich history. Residents who have lived or summered here since the beginning share stories of the small ferry that would shuttle beach-goers from their personal docks and common areas to the beach and back again.
We are very proud of our beautiful village. If you have any information to share about Bright Coves Village, its history, and its people, please contact the Bright Coves chairperson.
Chair: Marjorie Clapprood
Phone: 617-835-2626
Email: mclapprood@aol.com